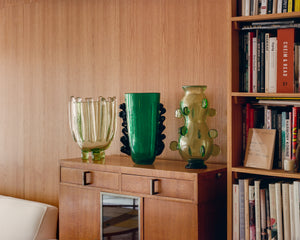 Dana Arbib: Vetro Alga
Having worked within several facets of design, self-taught Arbib pivoted to designing glassware, applying her multifaceted perspective to oversized vases and vessels glass pieces produced by master glass artisans in Murano. Each handmade piece united chapters in Arbib's heritage. Her Libyan father fled Tripoli as a refugee in 1967, instilling Arbib with a romanticized portrait of a time when Jewish, Italian, and North African cultures existed symbiotically in one land. Her pivot to glassware itself is also part reconnecting with her three-times removed great uncle, Salvatore Arbib, a Libyan migrant-turned-glassblower owning a Furnace in Venice during the first quarter of the twentieth century.
Vetro Alga literally translates from the Italian as "Seaweed Glass," with the pieces alluding to the uniqueness of Venice being a city built on water. Colors and shapes found in Roman glass and North African relics are also used as sources of inspiration.
May 13-18th, 2022
Galerie Michael Bargo, New York City