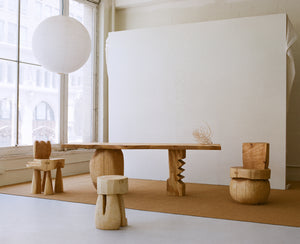 Vince Skelly: After the Storm
On Friday Jan 21, 2022, a severe wind storm hit Southern California, with gusts of over 83mph hitting Claremont, a small university town just outside of Los Angeles locally known as "The City of Trees." During the six-hour event, over 300 trees were blown over. In both an effort to assist the city with the cleanup, and to preserve the legacy of the felled trees, Skelly drove around in the days following the storm and marked trees which had usable timber, which he gathered at his studio.
The show featured an enticing array of pieces sculpted from six different wood types – deodar cedar, pine, redwood, live oak, eucalyptus and magnolia; varieties that were all new to Skelly. Ranging from the functional, like chairs, tables and benches, to the purely decorative, the collection provided Skelly with a unique opportunity to finesse his practice while still expressing the poignancy of the regrettable circumstances that the materials arose from in the first place. 
July 2-13, 2022
FARAGO x TIWA, Los Angeles